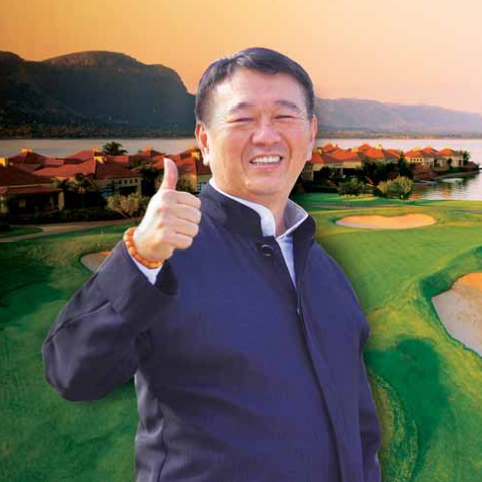 Y. Bhg. Tan Sri Lee Kim Tiong @ Lee Kim Yew
Executive Chairman and Founder of CHHB




Dear Shareholders,

On behalf of the Board of Directors, I am pleased to present the Annual Report and the Audited Financial Statements of the Group and Company for the financial year ended 31 December 2020 ("FY2020").


Covid-19 has turned the world upside down, it is in this crisis that we must adjust and seize the opportunities before us"
The Covid-19 pandemic defined the course of the economy in 2020 and at its worst point in 2020, the gross domestic product (GDP) in the second quarter of the year sank by a record 31.4% on an annualized basis, more than three times the previous pandemic-era record contraction of 10.0% annualized during influenza pandemic in 1958.
Very few economic sectors were spared the effects of the Covid-19 pandemic and our property development and hospitality divisions being the mainstay of our Group were similarly affected. Construction and sales activities have also been halted since the first MCO in March 2020 and this has adversely affected our financial performance for the year 2020.
Financial Statement
Against this backdrop, it has been a difficult year again for the Group's business segments and this is reflected in the financial performance for the year 2020. Our Group revenue declined 60% YoY (year-over-year) from RM92.2 million in the previous financial year to RM36.58 million for the year 2020. This was largely a result of the temporary closure of our hospitality businesses as well as a halt on our exhibition and convention activities.
Consequently, the Group incurred a loss after tax of RM35.8 million (FY2019 : RM39.30 million). While a lower loss compared to the previous year because of tighter cost measures undertaken over the year, it is a significant loss nevertheless. This has resulted in our net asset per share declining to RM2.90 (FY2019 : RM3.00)


We are keenly aware of the challenges posed by the impact of Covid-19 on the markets we operate in, as well as the society at large.
Prospects of CHHB
Throughout this period of lockdowns and social distancing, the management and Board have been hard at work on our overall strategy to drive the Group forward into the next decade. We know that it is a matter of time that our country's vaccination programmes will result in some recovery from the full impact of the pandemic. The biggest question is, when this will happen and how effectively it will be implemented.
The management discussion and analysis in this report covers in more details regarding the steps and actions that have been taken to carry on our business operations and our continuity plans, ensuring the safety and well-being of our team members and supporting our customers.
We must reset, rethink, rebuild, reorganise and reunite.
We know the uncertainties emanating from the Covid-19 pandemic will continue to weigh on the financial performance of the Group for the year 2021 as our hospitality and convention divisions continue to remain closed for the most part of 2021. However, we are confident that some of our latest developments such as the transformation of the Mines Resort City into a smart city; the planned expansion of our healthcare division and the introduction of crypto services into our Group will have a long-term value creation for our Group. Incidentally, I am proud to announce that we are the first Public Listed company on Bursa Malaysia to accept selected crypto currencies such as Bitcoin, Ethereum, etc for purchase of the Group's goods and services.
With the new appointments in our top management announced in 4Q2020, I am confident that the newly appointed management will be able to execute the Group's new transformation plan. As such, I wish to welcome Datuk Jared Lim as our Group Managing Director, Mr Kevin Chen as our Financial Director, Mr Ryan Xu as our Chief Technology Director and Mr Gerard Lim as our new Independent Director.
On a more negative note, I would like to highlight the ongoing issues that we are facing in relation to our joint venture in Borneo Highlands Estate with the Sarawak government. In the midst of the Covid-19 pandemic and countrywide lockdown, we were issued a termination notice for the joint venture which we had started from a raw piece of logged land 26 years ago into one of the main tourist attractions in Sarawak today.
More recently, in the midst of the 3rd MCO and just days before Hari Raya, the Joint Venture was issued a notice of forfeiture for the Borneo Highlands land. I want to assure our investors that we will do everything necessary and utilise every available avenue legally to challenge this blatant disregard of basic land laws and investor protection. I will ensure our 26 years of investment and hardwork is not compromised even as I continue to reach out to the Sarawak government to work out an amicable solution. Over the 26 years, we have injected capital of over RM23 million and provided advances of over RM113 million (not including interest) to this state joint venture. Incidentally, that is also the approximate amount of bank liabilities that our Group has todate. Given the sacrifices we have made for this joint venture, we must ensure that the State recognises this regardless of whatever agenda behind this With the new appointments in 2020 in our top management, I am confident that the newly appointed top management is able to execute the Group's new transformation plan. termination. In the meantime, we will continue to do the right thing and take care of the staff and workers during this uncertain period notwithstanding the impasse with the state government.
On behalf of the Board, I want to express my gratitude to our team members across the Group for their commitment and dedication during the Covid-19 pandemic. While working remotely, they have maintained high levels of service to our stakeholders as well as supporting the wellbeing of their families and colleagues. It is a credit to them and the senior management team that we have been able to operate so effectively considering these challenging conditions, putting us in a strong position to maintain the prospects of the Group.
In conclusion, 2020 has been a challenging year and we now must regroup and restrategise and seize the opportunities in crisis and continue to make progress in the face of coming headwinds in 2021. We take our responsibilities seriously to ensure that we perform financially, strategically, and ethically against this changing and challenging environment. We thank you for your continuous support and look forward to your encouragement as we embark on this journey.
Thank you.
Tan Sri Lee Kim Tiong @ Lee Kim Yew
Executive Chairman and Founder of CHHB
Transforming Lives with Technology
The Covid-19 pandemic has changed all of our lives, seemingly overnight and has caused a major economic distortion in 2020. We are experiencing the sharpest global recession since the great depression, requiring rapid responses from governments, businesses, financial organisations, and consumers across the globe.
Country Heights Holdings Berhad estimates a cumulative economic output loss of RM35.8 million for the year 2020 as a result of the pandemic and the unprecedented series of lockdowns.
Since our inception on 10th May 1984, the Group has strived for 'Ever Searching for Better Living' as our vision to develop Malaysia's pioneering property development led conglomerate in the areas of Property; Hospitality; Health and Wellness, Lifestyle, Tourism, Automotive and Investments.
For 2020, under the direction of our new management, the Group has continued to strive for this vision and has focused on Digital Transformation strategies, adopting technologies and platforms to transform our flagship Mines Resort City into a fully enabled smart city and to expand our integrated wellness business under the GHHS Healthcare brand.
Transforming Tomorrow Together
The focus of the newly appointed management team has been to develop the Group's transformation plan with an emphasis on the Enabling of Digital Smart Cities and its Integrated Wellness business via the adoption of blockchain and platform technologies. The Group's transformation has brought in professionals led by Datuk Jared Lim, Managing Director; Mr Kevin Chen, Financial Director; Mr Ryan Xu, Chief Technology Director and Mr Gerard Lim as Independent Director.
As part of the Digital Transformation plan, the Group in 2020 has announced that it will be the first Public Listed company on Bursa Malaysia to accept crypto currencies such as Bitcoin, Ethereum, etc for purchase of the Group's goods and services.
The transformation plan adopted by the Group will also focused on unlocking the intrinsic value of the assets of the group. The background and experience of the new management will allow the Group to adopt the latest technologies and platforms to enhance the value of our offerings. This transformation plan will be carried out via our technology partners including Huawei Malaysia, Touch Point International and Collinstar Capital.
It will begin with Mines Wellness City in the Mines Resort City township and provide the following:
Malaysia First Fully Wifi 6 Coverage and 5G
Smart Office Campus: 1Gbps for desktop and fully wireless
Learning Community: Huawei Ideahub, Cloud Classroom, Huawei ASEM Academy
Smart Health Community: Golf, health check and medical treatment
Cloud Start-up Community: New technology incubation, IoT and blockchain
This also sets the direction for the Group's further investment into its wellness operations which will result in GHHS Healthcare being one of the anchor tenants in Mines Wellness City.
The partnership with Huawei will focus on the infrastructure development of Mines Wellness City via the provision of 5G and Wifi 6 for this township by the end of 2021. This will make Mines Wellness City the first township in Malaysia to be Wifi 6 enabled (9.6 Gbps – 2 times faster than 5G).
In realizing the digital transformation and Internet of Things (IoT), the partnership with Touch Point International (TPI) will focus on the Smart City digital platform. The collaboration objective is to digitally connect with the various stakeholders: residents, management, merchants, and visitors to Mines Wellness City. (TPI is currently the platform technology partner for Putrajaya City). CHHB has announced the long-term partnership agreement with TPI for Mines to be transformed into a Smart City in February 2021
Mines Wellness City will be the first township in Malaysia to use smart city app and will be called the M Smart City App (MSA), with cryptocurrency enablement.
The collaboration with Collinstar Capital is to provide infrastructure investment to benefit and enhance Mines Wellness City. Collinstar Capital is a Melbourne based investment management group and best known for funding some of the top performing Security Tokens in the blockchain ecosystem with over $500 million of assets under their management. Their expertise in blockchain investment will strengthen this transformation plan.
Mines Wellness City will be the first township in Malaysia to use such a smart city app which will be called the M Smart City App (MSA), with cryptocurrency enablement. The Mines Wellness City community will benefit from integrated digital services, cutting edge community engagement and smart city management all in one smart city app. With its mobile community platform solution, users can conveniently do multiple things online on their phone and local businesses can better serve and connect with their customers.
This is the first step of our digital transformation plan in integrating the entire Mines Wellness City township through the adoption of blockchain technologies platform and will use this technology to link with our ecosystem and all other CHHB developments.
The Group's Business Divisions Performance:
The Group businesses are categorized into:
Healthcare Division

The Group's very own brand GHHS Healthcare, currently offers holistic health screenings and diagnostic centre services, alongside traditional Chinese medicine as well as Wellness & Rejuvenation centre services.

GHHS Healthcare's Medical Screening and Specialist Clinic
GHHS Chinese Medical Centre
European Wellness Retreat (EWR)

Resorts and Hospitality Division

Country Heights' Hospitality Division carries three international award-winning brands, namely Palace of the Golden Horses, Mines Wellness Hotel (currently known as Philea MINES Beach Resort) and Borneo Highlands Resort. Through this Division the Group offers the best in hospitality, fine and casual dining, leisure, recreational, health and wellness centres, confectionary, and fitness

Exhibition and Convention Division

This division comprises Mines International Exhibition and Convention Centre. It is the largest column-free exhibition venue with the biggest tonnage capacity per square meter in Malaysia and provides a magnificent venue for multipurpose usage that can cater to large crowds and elaborate events, trade shows, symposiums, expositions, major gatherings, concerts, corporate functions, and dinners

Property Division

Our Property Division comprises revenues from the leasing of our properties as well as development sales. We aim to continue delivering a high standard of quality, modernity, sustainability together with the infusion of environmentally friendly elements. Credited with some of the most successful residential projects in Malaysia, South Africa and Australia, the Property Division targets to combine the best international practices in urban space making with the most advanced smart technologies to offer a holistic wellbeing lifestyle.

Our developments in the Mines Wellness City township will be the first in Malaysia to use smart city app and will be called the M Smart City App (MSA), with cryptocurrency enablement. The Mines community will benefit from integrated digital services, cutting edge community engagement and smart city management all on one smart city app. This digital transformation plan is focusing on integrating the entire Mines township and ink with our ecosystem and all CHHB developments.
Group Financial Performance

The CHHB Group's total revenue for the year 2020 decreased from RM92.21 million to RM36.58 million mainly due to the temporary closure of our hospitality and our exhibition and convention business.
Consequently, CHHB Group recorded a loss after tax of RM35.85 million for the year 2020 as compared to a loss before tax of RM39.34 million in the preceding year. The smaller loss can be attributed to tighter cost measures undertaken over the year.
For the year 2020, Healthcare division, Hospitality division, Exhibition and Convention division; and Property division contributed RM14.84 million, RM11.81 million, RM1.88 million and RM8.05 million respectively to the CHHB Group's total revenue.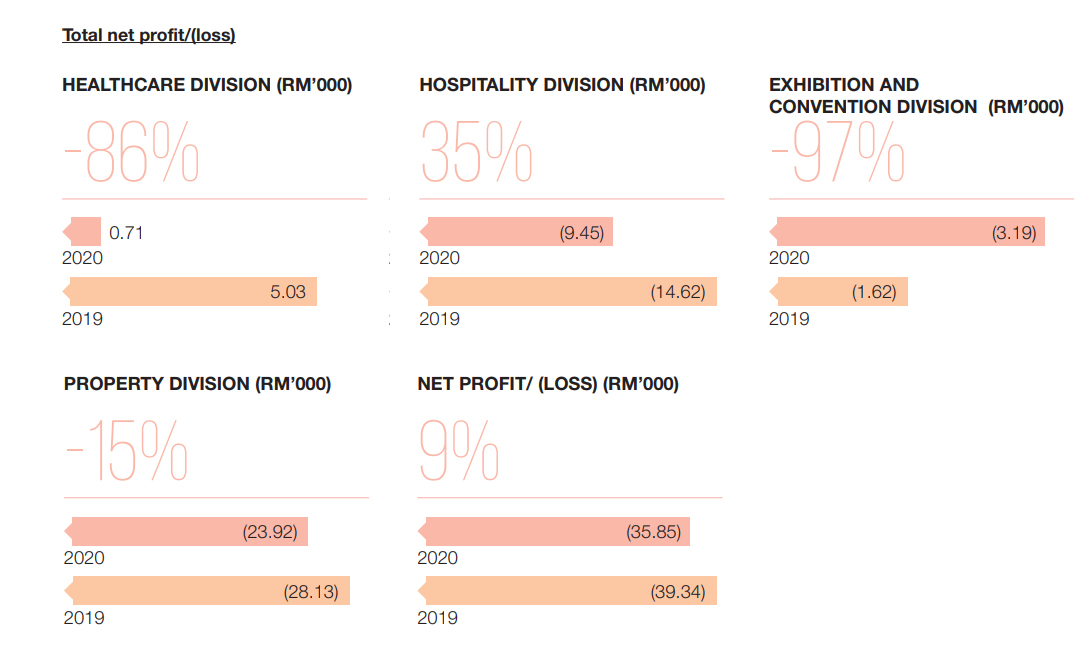 The CHHB Group's very own brand GHHS Healthcare, currently offers holistic health screenings and diagnostic centre services, alongside traditional Chinese medicine as well as Wellness & Rejuvenation centre services. GHHS Healthcare offers complementary treatments which combines the best of western scientific detection technologies with eastern natural treatment therapies.
The revenue contributed by the Healthcare Division for the year 2020 was RM14.84 million as compared to RM21.54 million in 2019. The decline was mainly attributed to the various lockdowns periods over the year which resulted in a decline in new membership sign ups as well as a smaller footfall in consultations.
Consequently, the Division recorded a segment profit of RM0.71 million in the year 2020 as compared to a profit of RM5.03 million in the year 2019.
GHHS Healthcare

The centre known as GHHS Healthcare advocates "Prevention Is Better than Cure" and is the first Preventive Healthcare Concept in Malaysia that offers Western Medical Screening Technology and Integrated Wellness Treatment with Traditional Chinese Medicine; Japanese Wellness & Korean Beauty; Modern European Wellness and German and Swiss Regenerative Medicine.
With professional specialists and highly sophisticated diagnostic equipment, GHHS Healthcare provides 30,000 members with the best care and technology available.
GHHS Healthcare has conducted over 18,000 medical screening tests in 2020. Since inception, we have conducted over 150,000 check-ups with over 70,000 health abnormalities detected including cancer resulting in a high members satisfaction rate of above 90%.
GHHS Healthcare Medical Screening & Specialist Clinic

At GHHS Healthcare we provide services to reduce the likelihood of health emergencies. The services that GHHS Healthcare and Wellness Centre provided include ENT Screening; Heart Clinic; Gastroenterology & Hepatobiliary Care; Cancer Prevention and Immune System Screening; Internal Medicine Physician; and Metabolic Syndrome and Obesity Clinic.

Milestones:

Introduction of specialist consultancy for Diabetes Mellitus at Kidney Disease and Cancer Management Clinic at GHHS Healthcare. This treatment recommends Detoxification, Diet Modification as well Cupping Therapy, Acupuncture that can treat patients with diabetes and kidney disease (CKD).
Exclusive world leading treatment devices are being brought in to provide treatments to enhance body immunity such as hyperbaric oxygen therapy, systemic hyperthermia, and immune boosting supplements like MFIII Supplements and wide range of nutritional natural plants-based products and treatments accustomed according to individual needs with professional prescription by qualified doctors.
The team in GHHS Healthcare also had achieved 80% successful rates with supporting evidential medical analysis especially in chronic kidney disorders, joint pains, high cholesterol, and break-through discoveries in reversing insulin under diabetic treatment.
The collaboration with Modern Cancer Hospital in Guangzhou has achieved a successful rate of good health and accreditation for treating active and post cancer patients through immunotherapy personalized treatment.
Introduced New G-BRCA+ Genetic Screening Tests - this test can screen patient's DNA for markers that are linked to inherit risk factors for breast and ovarian cancers. Introduction of DNA Test for G-child, G-gardia, G-cardio META, G-onco, G-corporate, G-wellness and G- pharma.

European Wellness Retreat (EWR)

European Wellness Retreat at GHHS Healthcare adopts a holistic approach that captures the four essential pillars in wellness system: Diagnosis, Detoxification, Repair & Rejuvenation. It is a Swiss and German wellness and rejuvenation retreat; and a leading Integrated Healthcare Solutions offering a non-invasive approach for anti-ageing, aesthetics, preventive, and holistic treatments of chronic diseases.

Milestones:

Despite the Covid-19 pandemic affecting nationwide, European Wellness Retreat (EWR) has recorded a profitable business growth with positive projection company revenue of five (5) times higher revenue sales for 2021. As part of the business expansion, EWR has planned a Special Corporate Wellness Programme including health maintenance targeting specifically for corporate companies with personalized and customized treatment by EWR qualified doctors and this will boost Health & Wellness Tourism once the international markets resume to operational as normal.
Introduction of the EWR Swiss and German treatment has been proven to be beneficial in prevention of diseases and overall health improvement for patients with Metabolic Syndrome Disorders; and Diabetes Mellitus. Additional to this, Biological Functional, Integrative and Regenerative Medicine are also being introduced through individualized therapy approach.
Introduced treatments for mental health illnesses and special needs children by using the German and Swiss Biological and Regenerative Medicine revolutionary approach.

GHHS Chinese Medical Centre

Revolving around the ancient TCM Philosophy which boasts a long history of 5000 years or more, an extensive array of TCM and Wellness Care services are provided such as Scoliosis Treatment, Fertility Treatment, Paediatric Care, Post Stroke and so on. A TCM pharmacy is also available where trained consultants dispense herbal prescriptions to promote the restoration of harmony in the body. Our Chinese Physicians; TCM Tuinalogists; TCM Reflexologists; and Herbalists are qualified and approved by Ministry of Health (MOH) Malaysia.

Milestones:

A strategic collaboration was signed with Xiamen University Malaysia with GHHS Chinese Medical Centre on the knowledge transfer between university and industry to promote cooperation on industrial training; social services; and employment opportunities.
The second collaboration is with Lunan Better Pharmaceutical Co. Ltd. Through this collaboration, the company has donated 'JingFang Granules' to several organisations in Malaysia. Lunan Better Pharmaceutical Co., Ltd. is a pharmaceutical company registered in the People's Republic of China and has obtained drug production license issued by the Shandong Provincial Drug Administration to develop 'Jingfang Granules' that can be used to relieve the symptoms of Covid-19 patients. This drug has obtained the domestic drug GMP certificate and drug registration approval. Together with GHHS Healthcare, Lunan Better Pharmaceutical Co., Ltd. has donated 100 boxes worth of RM500,000 of 'JingFang Granules' to several establishments in Malaysia.
GHHS Healthcare and Modern Cancer Hospital Guangzhuo have initiated the CSR programme by forming the Anti-Cancer & Rehabilitation Club. The objective is to create awareness and promote prevention is better than cure and the importance of yearly check-up. It is a platform to provide information, knowledge, activities, medical expert advice and facilities related to integrated western medicine, Chinese medicine and natural therapy for cancer prevention, rehabilitation, and treatment.
Introduction of GHHS Lungshield - herbal remedy as a preventive formula during this Covid-19 pandemic. It helps to nourish the lung and reinforce body's immune function, enhance body anti- inflammatory system, and received numerous commendable testimonials from post Covid-19 patients. With that, GHHS Chinese Medical Centre has collaborated with Malaysian Chinese Medical Society of Epidemic Control and Prevention to give away complimentary GHHS lung shield to Covid-19 patients, and families and Covid-19 closed contact. We collaborated with Nirwana group and INTI TCM clinic in Seremban for the distribution of the lung shield.
GHHS Chinese Medical Centre has introduced TCM TeleHealth Consultation with our team of professional Chinese physicians to provide tele-consultation and medication delivery service.
Pre and Post Natal Care and Pediatric Care has been introduced in GHHS Chinese Medical Centre with new and special techniques from China.
Introduced Womb Care and Acu Face Lifting programme though acupuncture treatments, Yunohana negative ion therapy and moxibustion therapy.
Introduced new confinement homecare programme which consists of Chinese medical consultation, confinement herbs and treatment, TCM Acu facial, Japanese Yunohana detox and womb care; Malay massage, herbal compress, tungku, tangas therapies, Korean beauty, and Pediatric massage.
Liver Health Retreat programme is specially designed with the combination of Liver Pro Detox product, Chinese medical treatment; and diet; and nutrition therapy with the aim to help those having liver problems and detox of their digestive system.
Introduced a Special New Detox and De-stress workshop for a complete cleanse of body, mind and soul that embodied with detox, slimming, anti-ageing, yoga, and QiGong sessions.
Introduced a Healthmune, a home brand product of GHHS Bio Herbs, helps to improve immune system with prebiotics and probiotics.
Introduced herbal daily tea with special formulation for lung detox and liver detox is introduced in GHHS Bio Herbs store.
Introduced a Special Rehabilitation Program that integrates Chinese medical treatment with physiotherapy equipment to provide therapies for physiotherapy spine for scoliosis, degenerative spine, post stroke rehab, senior physical therapy and care, sport injury, and joint and muscle pain.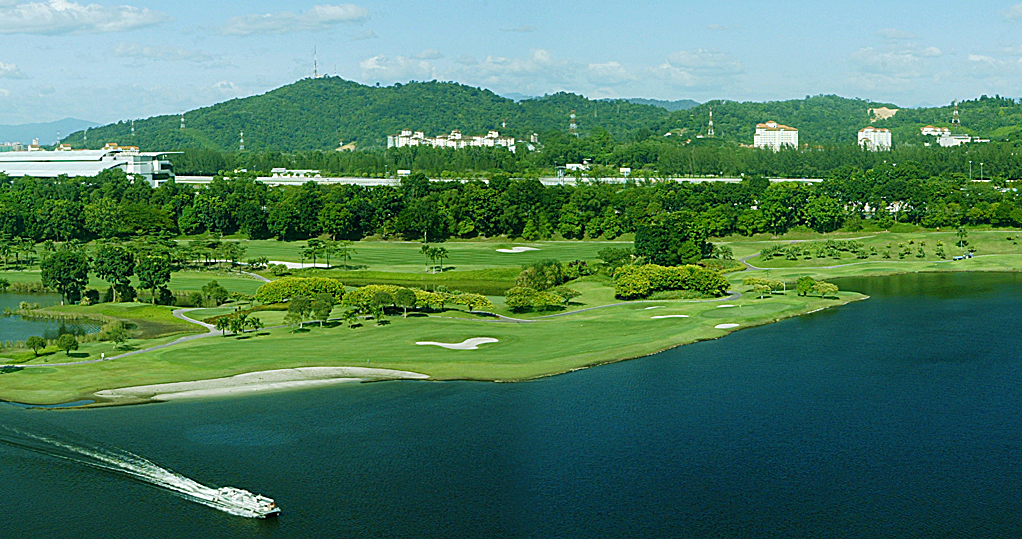 The Hospitality Division comprises of three international award-winning brands namely Palace of the Golden Horses, Philea Mines Beach Resort and Borneo Highlands Resort; and a time-share business, Palace Vacation Club. Through this Division, the CHHB Group continues to offer the best in hospitality, fine and casual dining, leisure, recreational, confectionary and fitness.
The Resorts and Hospitality Division recorded a division revenues of RM11.81 million in 2020 as compared to RM39.69 million in 2019. The segment loss was recorded at RM9.45 million for 2020 due to temporary suspension of hotel operations.
The hospitality and leisure sector were badly-hit during the period as foreign tourists were not allowed into the country, and domestic tourism was also prohibited due to restrictions on inter- district and interstate travel. Many hotels have either implemented a cost-cutting, retrenchment exercise or are closed completely. More than 200 hotels and tourism operators have shut down operations since March 2020.
The cancellation of Visit Malaysia Year 2020 has had a huge impact to the tourism industry. Until international borders are reopened, and domestic travel restrictions are removed or at least relaxed, the hospitality sector is expected to continue to face these challengesand is unlikely be able to see any sustained recovery in 2021.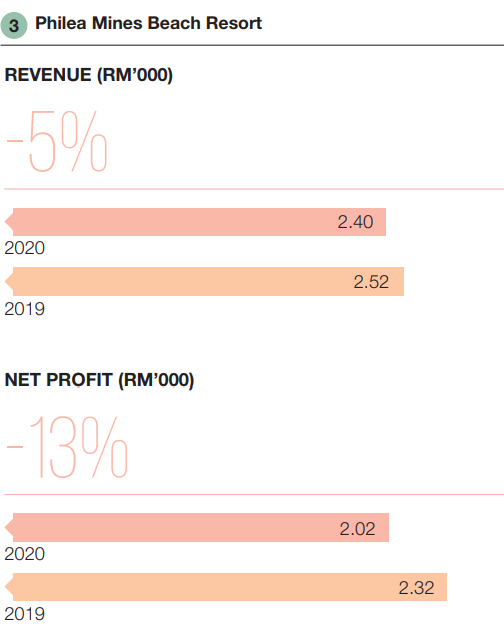 Philea Mines Beach Resort recorded a revenue of RM2.40 million in 2020 as compared to RM2.52 million in 2019.
Nestled amidst the concrete jungle of Kuala Lumpur, MINES Wellness Hotel is an unexpected haven offering a full experience of sophisticated style, comfort, privacy, and tranquillity. Dubbed the only 'beach in the city', it is also the perfect choice not only for health retreats or weekend getaways, but also for garden weddings, beach barbeques, family days, team building events and other leisure or corporate activities. A delightful 120- room wellness hotel with a tropical design overlooking a scenic 150-acre lake, MINES Wellness Hotel provides the perfect escape from the hectic city life, just 15 minutes away from the Kuala Lumpur City Centre. It is a place where you look for a little piece of serene nature within the city.
The hotel logo which has a representation of two leaves is derived from a Chinese word, 'Tao'. In Mandarin, the word 'Tao' means a path; to us, a way of living. It strengthens the hotel's concept of a unique way of living, focusing on giving our guests the best in hospitality and health standards.
The leaf of MINES Wellness Hotel sprouts from ground and spans its leaves while growing towards the sunlight, withering its leaves as season changes and provides fertiliser to the ground – giving back to where it came from.
In line with the restructuring in the hospitality division, the hotel was leased out effective from 1 August 2015 and has been rebranded as Philea Mines Beach Resort. The resort has been undergoing renovations in stages and is managed by the Philea group.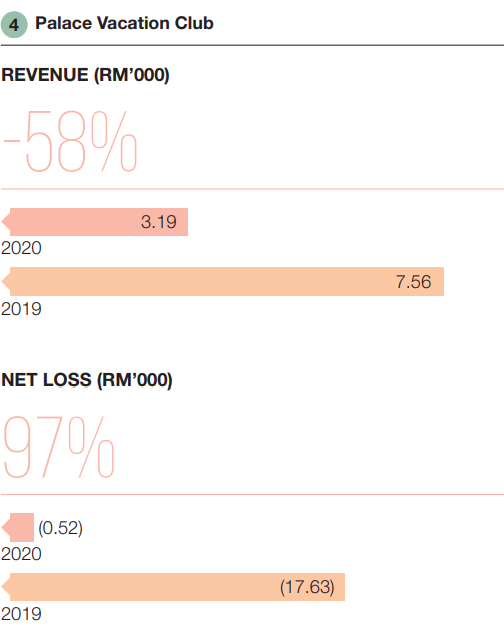 Palace Vacation Club ("PVC") recorded a revenue of RM3.19 million in 2020 as compared to RM7.56 million in 2019.
PVC is a membership club designed to provide its members the opportunities to enjoy vacations, creating priceless memories at places beyond the regular destinations with freedom of choices available only with a timeshare network. The membership ensures and maintains the affordability and flexibility of family vacations both at local and international destinations.
Palace Vacation Club (PVC) - principally involved in timeshare business faced significant challenges during the financial year mainly because Covid-19 pandemic directly affected PVC's revenue and operations. Implementation of Movement Control Order which had restricted international and local interstate travel are the main impacts of Covid-19 on PVC's business.
Resort stays at Palace of Golden Horses Hotel (PGH) and exchange of PGH stay with other timeshare resorts are the main selling points of PVC membership. As PGH remained closed due to international travel restrictions because of Covid-19 pandemic, sale of new membership had dropped significantly during the year and directly affected PVC's operational cash flow as well.
Annual maintenance fee collection has also directly affected because PGH has been closed and PVC has only been able to offer stays at Country Heights Villas, Kajang for PVC members during the year.
For year 2021, Palace Vacation Club will look into repackaging and enhancing its membership through new technology for better engagement with members and more effective marketing.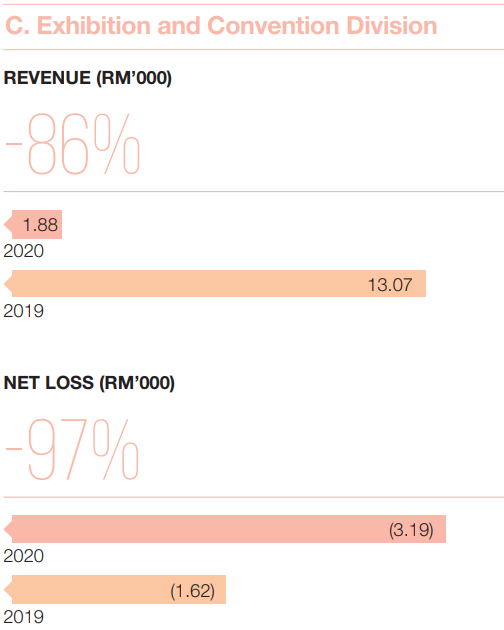 MIECC recorded a revenue of RM1.88 million in 2020 as compared to RM13.07 million in 2019.
The Exhibition and Convention Division comprises the Mines International Exhibition and Convention Centre being the largest column-free exhibition venue with the biggest tonnage capacity per square meter in Malaysia. It provides a great and magnificent venue for multi-purpose usage that can cater large crowds and elaborate events, trade shows, symposiums, expositions, major gatherings, concerts, corporate functions, and dinners. Situated within MINES Wellness City and a stone's throw from renowned establishments such as Palace of the Golden Horses, MINES Wellness Hotel, The MINES Shopping Mall and the exclusive MINES Resort and Golf Club, events at MIECC enjoy the upper hand of convenience by having an array of facilities and amenities at its doorstep.
Being strategically located just 20 minutes from the Kuala Lumpur City Centre or from the administrative capital of Malaysia, Putrajaya, the centre boasts the largest column-free exhibition space in the country with a width of 160 feet, a length of 660 feet, a height of 50 feet, and a floor load of 3 tonnes per square metre.
MIECC faced one of its most challenging periods during 2020, with all events that were planned being either postponed indefinitely or cancelled due to the Covid-19 pandemic.
As one of the worst hit economic sectors, MIECC remains resilient and positive towards the reopening of the event industry. For the year 2020, MIECC's predominant focus is on internal upgrades and improvements while also building relationships with strategic partners for the eventual reopening of the industry.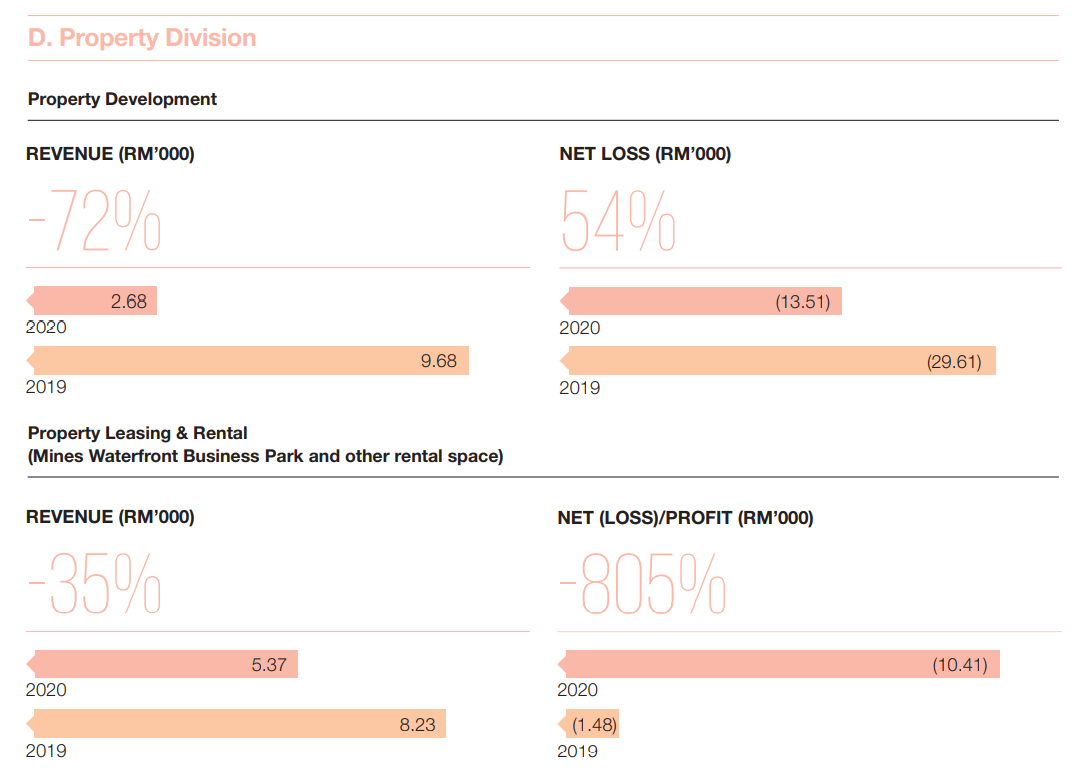 The Property Division contributed RM8.05 million of revenue in the year 2020 as compared to RM17.91 million in the year 2019. The segment loss of RM23.92 million was recorded for the current year as compared of RM28.13 million in the preceding year mainly due to fair value impairment of our assets.
In a report by Henry Butcher on property market, the property market in 2021 overall is expected to be flat or record a slightly better performance than 2020 as the start of the vaccination programme in the country in 2021 would help in controlling the Covid- 19 pandemic and start the economy on a recovery path. However, with the recent rise in infections and the implementation of the movement control order (MCO) 2.0 and the declaration of emergency, the hoped-for recovery may be delayed until 2022.
The summary:
Landed residential properties will remain in demand, and the huge overhang of high-rise residences, especially serviced apartments, will make this segment of the market more challenging.
The positive thing to look out is the roll-out of the Covid-19 vaccination programme. It is estimated to commence after receipt of the first batch of vaccines estimated by end-February 2021. Once herd immunity is developed, the economy and consequently the property market will be able to stage a sustained recovery. Furthermore, buyers may take advantage of the current low interest rates to buy their dream homes and housing developers are expected to intensify their marketing efforts to push sales before the end of HOC 2021 (Home Ownership Campaign).
It believes that foreign investors will also return to the market once international borders are lifted. As most developers have added digital marketing tools and technology to their marketing arsenal due to the pandemic, this move is expected to help them in the long run to reach out beyond the local market.
Other than the digital initiatives, the report added that developers had also made other changes, such as focusing their attention on affordable homes priced under RM500,000 each, which will continue to be the focus in 2021.
Developers will also likely place more emphasis on details of home design that involve private workplaces and Internet connectivity due to a surge in the work-from-home trend.
For Country Heights Property Division, the focus is given to:
Digital Transformation

Mines Wellness City will be the first township in Malaysia to use smart city app and will be called the M Smart City App (MSA), with cryptocurrency enablement. The Mines community will benefit from integrated digital services, cutting edge community engagement and smart city management all on one smart city app. With its mobile community platform solution users can conveniently do multiple things online on their phone and local businesses can better serve and connect with their customers. This is the first step of digital transformation plan to focus on integrating the entire Mines township through the adoption of blockchain technologies platform and will use this technology to ink with our ecosystem and all CHHB developments.

Launch of Cloud Life at Mines Wellness City

Cloud Life is an exclusive development of 268 units of office suites specially designed to meet the needs of health and wellness operators with built up areas varies from 481 sqft to 1,220 sqft. Selected units come with the view of the prestigious Mines Golf Course and the fascinating view of the Mines Lake. This development will be equipped with great facilities including a fitness centre, cafes and retail spaces for variety of wellness businesses.

Every unit comes with either the fascinating view of the serene Mines Lakes or the prestigious Mines Golf Course besides being furnished with a dual water sources and individual restroom. The building is equipped with safe green infrastructure such as solar panel with smart digital features for smart parking; energy efficiency management; Wifi 6 and 5G enabled and autonomous driving vehicle facilities.

For efficiency and productivity, Cloud Life offers a complete hightech and IoT features such as facial attendance identification; finger-print and card swiping to improve sign-in efficiency and user experience. Equipped with a signature fitness center; a first-tomarket food court concept that promotes a sustainable and healthy-eating concept; roof terrace for herbs and urban farming; a remedy wellness bar at 6th floor and a 30,000 sq. ft. unify concept retail spaces, this development is a perfect investment.

Construction work for Wellness 4 of Cloud Life has been completed and Certificate of Completion and Compliance (CCC) is in progress. 60% of Wellness 4 has been sold and whereas Wellness 5 of Cloud Life was intended for a single investor to purchase the entire block. There is a potential RM120 million of growth development value from Block 4 and 5.

The team is preparing for the launch with the following selling points such as guaranteed rentals, tax free incentives for operators and Wifi 6 enabled by Huawei.

Relaunch of College Heights Garden Resort, Pajam, Negeri Sembilan (College Heights Estate)

College Heights Garden Resort is Malaysia's first academic township and this exclusive Malaysia oasis for living and learning offers the perfect atmosphere for the international stimulation with the country living themed with the conveniences of modern urban lifestyle. The township emphasizes on healthy resort living within an academic environment with the luxury of space, garden, and greenery. It is a freehold land of 1,111 acres comprehensive self-contained community.

There is a potential growth development value of RM60 million70 million. The Group's immediate direction is to enhance the attraction of the development by investing in a more complete eco-system including creating a retail village and a private parkland for the community.




Belleza Garden Homes at Kolej Heights Utara in Jitra, Kedah

Belleza Garden Homes is located in the peaceful pastures of Kolej Heights Utara in Jitra, Kedah. An exclusive low-density development in the private enclave of Kolej Heights Utara, just 15 minutes away from the Airport in Alor Setar, Belleza Garden Homes is surrounded by lush greenery that truly lives up to their name. With a guarded and gated community, this development represents the pioneer phase of the linear garden concept in the northern region of Malaysia. It comprises of two and threestorey terraced, garden homes with extensive backyards gardens integrating with an idyllic open-concept environment. This development boasts generous built-up areas starting from 2,000 sqft. Belleza Garden Homes Phase 2 has been completed and handed over.

Belleza Garden Homes Phase 3 is the continuation of the successful story of Belleza Garden Homes Phase 1 and 2. It is an exclusive freehold development consisting of 90 units of two-storey linked villas. It has a similar concept as Belleza Garden Homes Phase 1 and 2 with linear gardens and private lawns, the first of its kind in the northern states, a gated and guarded community emphasizing on security and safety of the owners with clubhouse facilities. As of now 40% houses has been sold and whereas the balance 60% are reserved for better market.
Among other property projects scheduled for next phase:
College Heights Garden Resort: 28 units of 2-storey shop-office
College Valley Industrial Park: 60 units of 1 & ½ storey Industrial Terrace
Mix development in Kolej Heights Utara on 200 acres and Development has been obtained for following projects:

199 units – Double Storey Shop Office
2 lots - Commercial Centre
118 units – Double storey Semi Detached
42 units Double Storey Bungalow
86 units Double Storey terrace (phase A)
190 units Double Storey terrace (phase B)
200 units Double Storey terrace PPA1M (Phase C)
615 units 5 Storey walk up Apartment with car parking facilities and Retail shop lots
270 units 5 Storey Affordable Apartment Aman Kedah
375 units 5 Storey Affordable Apartment Makmur Kedah
580 units 5 Storey Medium Cost Cluster Apartment
Moving Forward:
Despite the challenges, our objectives are to make the Group more resilient and to deliver our best to our customers. Now more than ever, in a world facing such an unprecedented upheaval, it is time to rethink old ways, adopt forward-looking approaches and work together to reshape our industry.
We are confident that our continuous stream of sustainable projects and timely delivery of innovative solutions will enable the Group to weather the challenges we are currently facing and emerge stronger and more resilient.
OVERVIEW
Over the course of 2020, Malaysia has undergone through one of the most challenging times, the worst economic decline since Asian Financial Crisis 1997, the pandemic of Covid-19. It all began as a health crisis but slowly morphed into a global economic crisis and the severity of Covid-19 has greatly impacted the economy by lockdowns, business closure, travel restrictions and the freeze of economic activities. Our economy crashed and hit a new low in March 2020 with the implementation of Movement Control Order (MCO) and only the essential services could remain open until the MCO was lifted in July 2020.
These 12 months of trying time and counting tested the Group's strength and resilience, bringing out the best of the Group's management to stay strong and remain positive. With the Group's capabilities to perform a rapid and radical counter measures, we identified and analyzed the situation, focused to go beyond by tightening our operations and slowly phasing towards digital transformation and maintain as a pioneer in the property market and starting a new reality. Covid-19 has significantly changed our perspective view in market context, and we will continue to adapt to recent changes.
Guided with our corporate vision and mission "Ever Searching for Better living" and "It is all about meaningful innovative creations". We recognised the need to operate our business in a responsible and sustainable manner complying with all relevant legislative and regulatory requirements, to maintain the Group's reputation, digital transformation and generate future business.
Our sustainability value can be seen through our development. We set out to build a place where people could live, learn, work, and play in an environment that they could be proud of.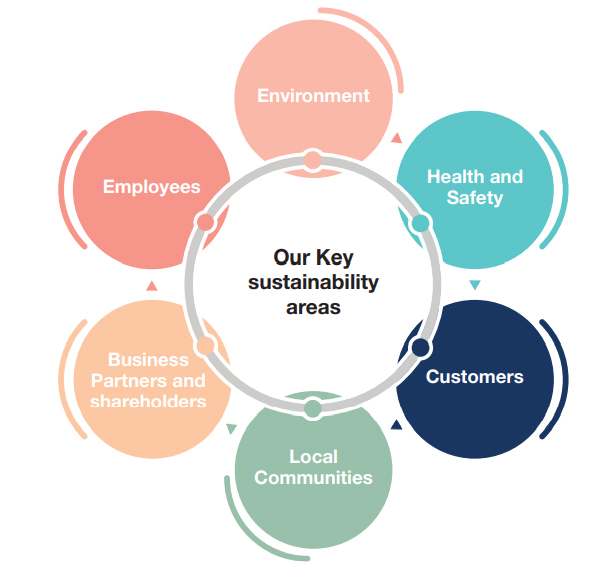 Our sustainability report covers the restructuring of our business to adopt the CHANGE especially towards Big Data, blockchain and Artificial Intelligence. The Group look into implementing digital transformation of its current services with adoption of new technology, and moving forward to transform the entire business into Data and digital platform.
Environment
We are committed to safeguard the environment and strive for continual improvement in our environmental performance in ways that are sustainable, practical, commercial, meaningful, costeffective, and innovative.
Health and Safety
To be an environmental steward and strive to conserve the natural resources and biodiversity under our influence and ensure that all potential adverse impacts our operations may have on the environment are identified and appropriately managed.
We identify, asses and manage the health and safety risks and impacts of our existing and planned operations.
To operate as far as is reasonably practicable in a manner which safeguards the health and safety of all our employees and stakeholders.
Employee
We strive to be an employer of choice by providing an environment in which all employees are treated fairly and with respect so that they can realize their full potential.
To provide the leadership and resources that will enable our employees to meet objectives and targets.
We promote Character Plus with knowledge in technology and IoT.
Business Partners
We ensure that our team of consultants, contractors and suppliers are aware of our Environmental & Sustainability Policy and its objectives and that they have the necessary skills to implement it.
To engage consultants, contractors and suppliers who promote sustainable development and encourage our customers to use our products and services responsibly.
Local Communities
To communicate regularly with the communities where we operate to develop and maintain a mutual understanding of goals and expectations.
To promote good relationship with the authorities and communities of which we are a part of and enhance their capabilities while respecting their culture and heritage.
OUR SUSTAINABILITY in SUPPORT with THE UNSUSTAINABLE DEVELOPMENT GOALS (UNSDGS)

HUMAN CAPITAL
Our Employee, Our People, Our CHAMPS
Country Heights is dedicated to transform its Human Resource initiatives by formulating systematic programmes for its employees towards a purposeful and effective workforce.
"CHamps!"
It stands for Country Heights Amazing PeopleS! (Plural of people, Def: a body of persons that are united by a common culture, tradition, or a sense of kinship) is to create a common identity among all employees under different business units towards one goal, one culture and one direction.
The primary objective of CHamps! is to provide programmes that resonate with their employees, allowing them to be a proud CHamps!
The programmes also aim to create unity, inclusiveness and a heightened awareness and energy amongst employees. Each employee is recognised as a CHamps! and abides by the common values listed below as a guide in one's individual conduct in the working environment.
Country Heights AMazing PeopleS!
C - I am Caring & Committed!
H - I am Healthy & Honest!
A - I am Appreciative and Assertive!
M - I am Mannered & Motivated!
P - I am Persistent & Positive!
S - I am Sincere & Successful!
! - Oomph! (Energy)
Country Heights understands that to be able to gain competitive edge and to maintain sustainability, Human Development is a crucial foundation. Country Heights has dedicated in transforming its Human Resource initiatives in formulating systematic programmes for its employees towards a purposeful and effective workforce. The first initiative was the launch of "CHampS!".
The coining of a name is to create a common identity among all employees under different business units towards one goal, one culture and one direction.
CHampS! aimed to create unity, inclusiveness, and a heightened energy among workforce within the group.
Each CHampS! abides the common values of caring, committed, healthy, honesty, appreciative, assertive, mannered, motivated, persistent, positive, sincere, and successful as a guide in one's individual conduct in the working environment.
In line with the digital transformation of the company, we promote the importance of having Character Plus with knowledge in technology, IoT (Internet of Things) and social media. This is to ensure that our employees remain competitive and innovative.

Human Development
"If your plan is for one-year, plant rice; if your plan is for ten years, grow trees; but if your plan is for a hundred years, educate your people." In early 2020, Group Human Resources took the initiative to transform CHHB employees towards the digital platform. Few steps were taken in order to implement this vision and this is in line with the Founder, Tan Sri Lee Kim Yew's mission to transform the Group towards digitalization which consists of artificial intelligence, blockchain and big data.
The Group Human Resources was the first department implementing the digitalization initiative with the first being HRIS Cloud based system initiated beginning of January 2020. Though we were hit by the Covid-19 pandemic in March 2020, same with the entire population in the world, we proceed with this transformation in a different way: "lockdown" & "work from home".
Secondly, the INFO TECH - HRIS system being implemented in Country Heights Holding Berhad and subsequently to all the subsidiaries such as GHHS Healthcare, MIECC, Palace Vacation Club, Borneo Heights Sdn Bhd and College Heights Sdn Bhd.
Thirdly, we managed to implement the first digital face recognition attendance in November 2020. This is a clocking system which reads your attendance and punctuality to work by recognition of staff's physical face appearance which will be synced to the mobile app system.
Besides the digital transformation, as the corporate governance and compliance, towards staff developments, we introduced webinar-trainings to staffs and educate them during this MCO period.
Last but not least, as the culture of the company, maintaining the bonds between the employees and employers, the Group has also issued guidelines to remind the Business Units and Functions of their compliance obligations under various competition laws.
EMPLOYEE WELFARE
Leadership support has been fundamental to the success of the company's programmes. With strong support and transparent lines of communication, the company is able to focus its efforts on the following initiatives:
Extended Maternity Leave
Additional 30-day half-day maternity leave with full pay on top of the 60 days paid leave as per the statutory requirement.
Designated Car Park
Allocated car park facilities located closer to the office for mothers-to-be during their pregnancy.
Flexi-work arrangement
Flexi-hours for pregnancy check-ups as and when needed to ease regular doctor's visits. At supervisors' discretion, expecting employees are allowed to start work after their doctor's visits as opposed to taking the full-day off for checkups.
Health and Wellness Programme Gi Gong
We encourage staff to participate in Qi Gong exercise after work will improve both physical and mental health in one gentle activity. It relaxes and re-energises employees, without the pain or strain that can accompany other physically-demanding exercise session.
Medical Check-up
All confirmed Champs are entitled to in-house Traditional Chinese edicine (TCM) Treatment at GHHS Healthcare. They can experience most premium TCM treatment at our in-house centre and we encourage our staff to in-house stay fit nd healthy.
Activities carried out such as:
Identifying staff birthday by month and prepared gift for each employee.
Team Building programmes.
Prior to the MCO in March, gathering over food (Makan Bersama-sama) during festive season luncheons such as Golden Horse Alumni, Chinese New Year Luncheon, and Lion Dance Performance, Hari Raya Dinner Gathering, Deepavali Dinner Gathering and Year End Luncheon Gathering.
Safety Working Environment
Occupational Health, Safety and Health committee had carried out the following during the year 2020 towards improving the safety awareness amongst employees.
Safety awareness on induction of new recruit.
Provided safety gear such as cotton gloves, face mask, ear plugs and safety boots for workers protection.
Zoom Meetings to discuss improving safety in operating and handling equipment.
Emergency fire drills conducted twice a year.
COMMUNITY CARE INITIATIVES: Bantu-Bantu Malaysia

Bantu-Bantu Malaysia is a non-profit social initiative which was created when the Movement Control order (MCO) started on 18th March 2020 due to the pandemic of Covid-19 with the objective to bring in masks and personal protection equipment (PPEs) for preventive measures, following the slogan of "A Mask is a Must".
Bantu-bantu Malaysia has a firm belief that prevention is the best way to slow down the Covid-19. Under Tan Sri Lee Kim Yew's leadership, Bantu-bantu Malaysia has brought in 6.5 million of masks and charted air-freight and distributed it to the front-liners. An additional of 2 million masks were brought in by ship as a preparation after the MCO.
We have contributed 640 pieces of surgical gown and subsequently donated 2 units of ventilator; 300 units of PPEs (personal protection equipment, suit and medical goggles); 20,000 units of surgical mask and 3000 pieces of N95 grade masks for the medical staffs and the front-liners at Sungai Buloh Hospital.
The distribution being extended to the rest of other government and private hospitals in Malaysia such as UKM Hospital, University Malaya Medical Centre, Putrajaya Hospital, Shah Alam Hospital, Kota Bharu Hospital, Pantai Hospital, Ipoh Hospital, Hospital Besar Kuala Lumpur and some other masks and PPEs were also sent to non-profit organisations and other states in Malaysia.
During the initial part of MCO, we had embarked on a cooked food programme within 5km radius from Palace of the Golden Horses for the orphanages, old folk homes, single mothers, foreign workers and students.
Bantu-bantu Malaysia has distributed more than 80,000 hampers which include 5kg bag of rice in each hamper and food essentials, more than 20,000 pieces of 'roti canai' and cooked food has been channeled to JAWI Food Bank, Social Welfare Department, Majlis Agama Islam Wilayah Persekutuan, Army Veterans and other NGOs as a food security measure and to ensure the "Food on the Table".
Food for THOUGHT by Bantu-bantu Malaysia is our education initiative and in conjunction with 50th years of Rukun Negara. We had organised a Video & Essay Contest to promote the ideas that Rukun Negara can be the best medicine to our country and be adopted in our daily lives while connecting with participants and Malaysians citizens.
Looking at the high Covid-19 cases comprising of the foreign workers, complimentary Covid-19 RTK antibody tests were given away from 25 to 29 November 2020. This initiative was led by GHHS Healthcare, a collaboration with Bantu-bantu Malaysia. A total of 1000 complimentary Covid-19 RTK antibody tests were given to public and was conducted by GHHS Healthcare professional medical team.
SUSTAIN ENVIRONMENT
Country Heights has taken various project plans which have been implemented towards energy savings and sustaining "clean environment". Negative ions' energy ceiling board, a natural ionizer and air purifier LakeView Residency in Cyberjaya was our first project which has negative ions' energy ceiling board and also its first development in Malaysia to introduce 'negative ions' energy ceiling board. The energy ceiling board works as a natural ionizer and air purifier. This purification process improves air quality by helping to purge airborne particulates such as dust and germs. With the installation of the energy ceiling boards, the homeowners will enjoy fresher, cleaner and healthier environment.
Solar Energy
Through Malaysia Renewable Energy Policy, which includes a measure for promoting the popularization of solar power, the government aims to cover 73% of its electricity by renewable energies by the year 2050. Along with that, we have carried out solar energy exercise at a smaller scale at our hotel and office premises.
Recycle - Useable items
Employees are encouraged to practice the 5 R's - 'Refuse, Reuse, Reduce, Repair and Recycle' in their daily activities both at home as well as at the working place. This practice is encouraged as it supports the segregation of garbage for recycling/ disposal. i.e, minimise paper usage, electric and water. For example, we are using lake water to water the plants and toilets.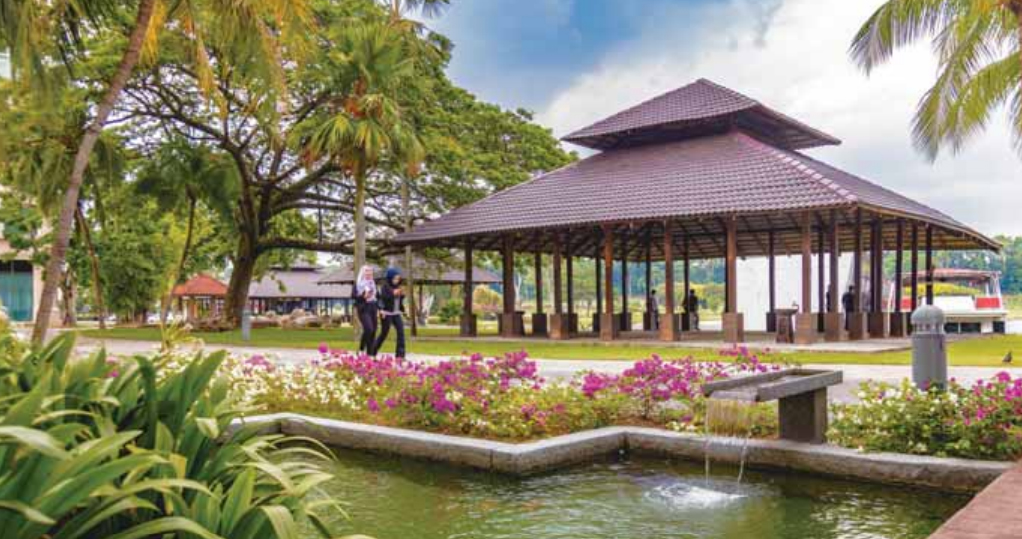 REDUCE OF PLASTIC USAGE
Under the Country Height's core values, NATURE is establishing a harmonious relationship with nature through the preservation and enhancement of nature's finest gifts.
Thus, we are introducing Bottle for Life – Say NO to Plastic Bottles to ban single used plastic bottles.
Reducing Bottled Water at Meetings and Events – we are practicing to use glass bottle almost at all our meetings. We are in the midst of coming up with campaign/event on this.
AUXILIARY POLICE UNIT
Country Heights Holdings Berhad has launched its Auxiliary Police Unit in 2017 to enhance security in its townships and other developments.
The introduction of the unit is part of our approach to reinforce the security at all current and future Country Heights townships, with the aim of creating a safer environment for the communities.
The first batch has been deployed at selected townships and developments especially in Selangor and Negeri Sembilan's townships and we plan to expand the unit with more trained personnel being deployed across all our townships in other states respectively in Kuching and Kedah. The first batch underwent a two-months basic auxiliary police course at Pulapol.
We are continuously proactive, providing excellent infrastructure, facilities and amenities including security and safety features within all our townships, to ensure a conductive and sustainable living environment for everyone.
OUR AUXILIARY POLICE UNIT DUITIES
Patrol assigned areas within the mall and its surroundings
Respond to routine and emergency calls, administering First Aid as required and assisting crime or accident victims
Assist with the containment and preservation of crime scenes as directed, and assisting with the determination of the extent of personal injuries, identifying victims, witnesses, the extent of damage and documenting evidence.